News
2013-10-08
"KISS ME AT THE GARDEN GATE"
"KISS ME AT THE GARDEN GATE"
Centranthus ruber is 'n meerjarige plant,hy is gehard en sal jou heel somer lank met 'n oorvloed blomme beloon.Jy kan hom goed terug snoei in die herfs om nuwe groei aan te moedig.In die volksmond staan hy bekend as "Kiss me at the garden gate".Centranthus ruber groei op sy beste in sanderige grond wat goed gedreineer is.Die plant het pragtige rooi blomme,maar is ook beskikbaar in wit en skakerings van pienk.Dit lyk baie mooi as jy dit langs 'n muur of paadjie plant,en is ideaal vir 'n kothuistuin.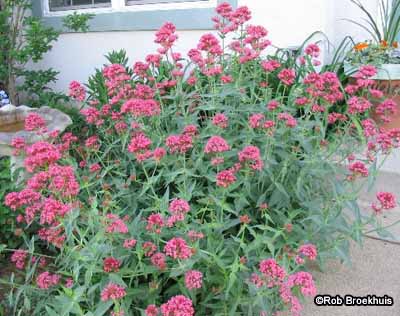 RAAD VIR 'N WARM TUIN
-Snoei al die plante jaarliks om hulle onder beheer te hou
-Gee die plante gereeld water,in Pretoria met sy warm somers sal 'n outomatiese besproeiingstelsel jou lewe baie vergemaklik.
-Plant plante met dieselfde waterbehoeftes saam in groepe.
-Werk een tot twee maal per jaar kompos in.